What is Tonic?
Tonic is a LAN only Chat client. It operates in a Peer to Peer mode so that no servers are needed.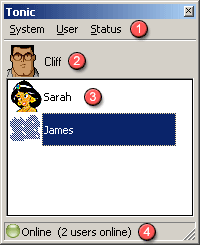 When you first run Tonic, you will be presented with the main window. Tonic will automatically scan your Local Area Network (LAN) for other users who are also using Tonic.
The main Window consists of the Menu System (1), your Icon (2), your Contact List (3) and the Status Bar(4).
Menu System: See "The Menu System" for more information.
Your Icon: Your Icon can be changed under System>Preferences.
Your Contact List: See "Sending & Receiving Messages"
Status Bar: This reflects the option selected in the status menu. See "Status" under "The Toolbar".