Application Properties
The Application Properties for a Startup Application can be accessed by using the Context menu and clicking the Application Properties item or by double clicking the item in the list.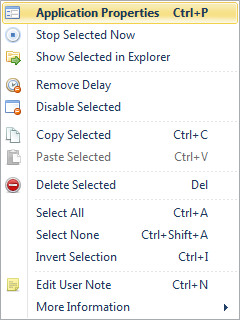 Launch Details and File Details are two available tabs in the Application Properties window.
The Show in Explorer button will open an Explorer window, selecting the Target file ready for any further investigation.
Launch Details
The Launch Details tab of the Application Properties allows you to edit the Label, Target and Start in path. Advanced Properties can be accessed by clicking the Advanced Properties button.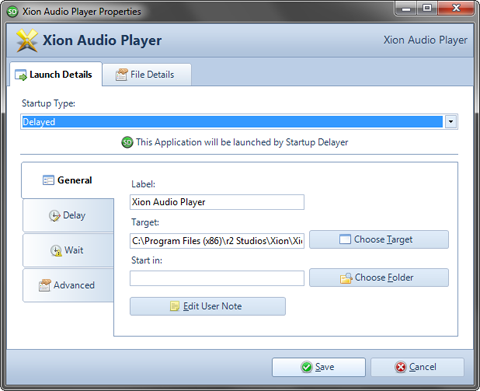 The Startup Type can be modified by using the Drop down at the top of the Window. You can choose between Delayed, Normal or Disabled. A label is displayed underneath the dropdown box detailing whether the Startup Application is launched by Startup Delayer or by Windows.
Startup Delayer will need to launch the Application if you modify any of the Advanced or Wait properties, even if you haven't specifically Delayed the Application. In this case the Startup Type will automatically be switched to Delayed.
File Details
The File Details tab gives an overview of some of the known properties of the Target file.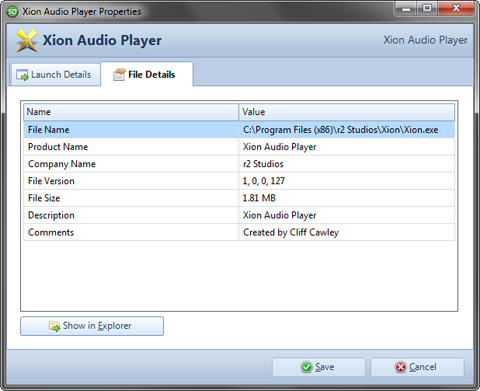 Any of the properties can be copied to the clipboard by selecting them and using the Context Menu to Copy the Selection.