Startup Delayer version 3.0 build 299 released
By Cliff Cawley on 21st May 2011
Another day, another release! I spent my saturday working on fixes and changes for build 299.
Some users have reported that Startup Delayer 3.0 launches Applications a lot slower than 2.5. This build addresses this issue with a number of fixes to the launch process, as well as a new 'Behaviour Wizard'. The first time you launch build 299, you'll be prompted to let Startup Delayer know how you'd like it to launch your applications.
The screenshot below gives you a preview of the new window. You drag the slider to the left if you want your application to start faster, but you're aware that your system performance may be affected. You drag the slider to the right if you want your system to perform well, but don't mind that the applications may take longer to start.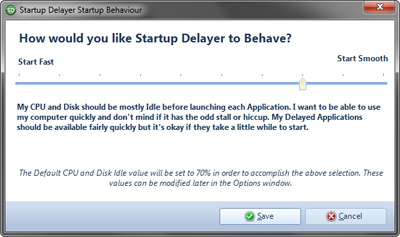 Behind the scenes, the CPU and Disk Idle values are modified and the note at the bottom of the window informs you of the current percentage value its using according to the choice you've made.
Once closed, this window can be accessed again at any time from the Options window.
I've also modified the Notifier window for this build. Most users agreed that the previous version was too large and didn't like that you couldn't move it. Build 299 has a greatly reduced size (down to a thin bar) with the ability to expand it by clicking on the Information icon. The Skip and Launch now buttons have been merged into the thin bar as well. The notifier has also been made slightly transparent and you can move it around by dragging on the title bar.
When this build crashes in both Standard and Premium versions, it will prompt you for an Email address. If you fill in this email address, I can notify you when the issue is fixed and when it'll be available.
The Release Notes for build 299 can be found here