Send Message to User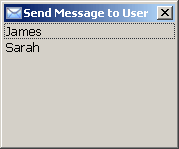 The Send Message to User window allows you to single click on a user name to send them a message.
This window is most useful when Tonic is hidden and you right click on the Tray icon, and select it from the System Menu. This way you do not have to show Tonic, double click the user you want to send a message to, and then close the Tonic window again.
The window can be resized by dragging the corners to the desired size.